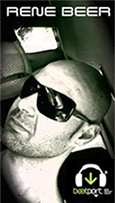 Rene Beer biography
Rene Beer (born April 22, 1976) is an electronic musician, producer, remixer from Zagreb, Croatia. His first introduction to music was the piano which he started to play at 10. His father was a radio DJ in the late 80's, and introduced him to the world of funk, hip-hop and house music. In the early 90's he purchased his first equipment and began producing his first compositions. His 1991-1996 releases appear under the names "Future 01" , "Plastic Phase" and included projects based on hardcore techno, house, trance and break beat. During this time he was also working on many remixes and performed at local clubs in Zagreb and on TV stations.
In late 90' he found his inspiration in a hybrid of styles from underground jazz to funky house and Detroit techno. In 1998 founded the 'Renesansa' home studio and with his friends began to experiment with sound and produced music for many alternative artists. In 2000 he brought together a group of creative people and formed a radio show, 'Uplifting Intelligence', on 'Radio Samobor', which hosted many DJ's in live performances. In 2001 due to the cultural and economic situation in the country he withdrew from the scene and worked on other projects. In 2011, after a ten-year absence from the scene he once again decided to go with the music production. During the year 2011-2012 he produced about 40 new tracks and remixes signed by the dozen of digital record labels around the world, gaining support of some highly respected DJs and producers of underground electronic music.
In the end of 2012 he received an invitation from the famous ballet choreographer Ronald Savkovic, to participate with his music in dance show Shut Up and Dance, which appears for the first time on the Croatian cultural scene, based on the model of Berlin's Berghain / Panorama Bar. In late 2013' he rebuild his home studio and continues to work on the new material…Keep a look out for his continuous onslaught of releases and remixes.